Our X1 Model is On TV Now!
How X1 Protected Our Customers


"I thought I'd share this with you. This is a video from my X1. The driver in front of me slowed down to a stop in the middle of the road, when I went to pass him he hit me intentionally. He tried to tell the police and insurance company that I was driving recklessly and he was trying to avoid me when he hit me. The police and the insurance company took one look at the video and knew exactly who was at fault. That saved me over $3,000.00 in damages to my car. Thanks for a great product! -- Customer J. T. "
Buy With Confidence!
KDLINKS X1 Dash Cam Introduction

As insurance cost keeps climbing up, if the HD video proof could work for you just once, you could save more money than the price of this dash camcorder.
The X1 Dash Camcorder has a number of modern solutions, useful for all drivers. The dash camera starts recording immediately after turning on the ignition. It has a motion detection system as well as a night mode ensuring high quality recordings also in poor lighting conditions. The WDR (Wide Dynamic Range) system will make no detail escapes the f1.6 high quality camera lens.
The X1 dashcam records Full HD videos (1920 * 1080p) at 30 fps with H.264! The use of six-glass F1.6 lenses and an extremely sensitive AR0330 sensor ensure excellent quality. As a result, the video quality is very detailed and smooth.
Dashcam GPS Feature
Built-in GPS module precisely record GPS data into video clips, and you can check vehicle location/speed/route on Google Map through included KDLINKS Dash Cam Player Software. You can test this feature by going to KDLINKS official site, then download sample video clip and this player software.
Safety First
Emergency Lock Button & Accident Auto Detection Feature (G-Sensor) can lock current video file for you.
High Quality Li-polymer 3.7v 120mah battery can bear high/low temperature, with official MSDS report and the most strict PONY Lab Certificate (Tested: 6+ hours in 170°F, 6+ hours in -40°F).
Video Quality Comparison
Please check those 2 Dash Cam video which are uploaded by our customer Tuan Do in his review:
Other Brand Dash Cam: https://www.youtube.com/watch?v=D9CQCjgMiBw
KDLINKS X1 Dash Cam: https://www.youtube.com/watch?v=VVbeTYzzY8E
Packing List:
* X1 Car Dash Cam
* Windshield Suction Cup w/ GPS Module
* 1 Extra Suction Cup w/ EMPTY GPS Module
* Dash Cam Cigarette Car Charger w/ Long Cable
* 8GB MicroSD Card
* MicroSD Card Adapter
* CD with X1 Dash Cam Video Player Software for GPS Function
* User Manual
KDLINKS® X1 is the Multiple Awards Winner!
1. Rated #1 by top10edges.com for all 2015 Dash Cam Products
http://top10edges.com/top-10-best-car-dash-camera-reviews-in-2015/

2. Rated #1 in 12 Best Dash Cams for Truckers in 2017 by Test & Facts
https://www.testfacts.com/12-best-dash-cams-for-truckers/

3. Best Rated Car Dash Cam 2015 by "License Plate Bracket Central"
Original Post: KDLINKS X1 Car Camera Recorder: Best Rated Car Dash Cam 2015

4. "PC World" Europe Editor Choice 07/2014
http://www.overmax.eu/en/the-award-for-camroad-6-1/
*OverMax is our OEM brand selling in Europe

5. Rewarded with Price Quality 2014 emblem in prestigious Optimal Product ranking

6. Best Quality award from PC Format magazine

7. Highly recommended by "Television Motion Picture Car Club"
"I have the KDLINKS X1 in my daily driver and there is peace of mind knowing that the unit is automatically recording everything going on in front of me while I am driving. The X1 appears to be exactly as advertised."
¨C Ken Latka President of the Television Motion Picture Car Club


The following video clips are from our big truck driver customers:
1. For safety concern, battery is low capacity to save files in emergency. To use X1, please always connect it to car charger.

2. To transfer video files to PC:
Option 1: Just take out microSD card and use it with card reader. <-- this="" is="" the="" easiest="" option="" br=""> Option 2: Go to X1 Setup Menu -> Auto Power Off -> Change default 1 minute to OFF; Find a Micro USB cable, connect X1 to PC, select Mass Storage option. Now you can transfer files between X1 and PC. Please remember to change "Auto Power Off" back to 1 minute.

3. To install suction cup, push the lever to make it stick to the windshield. Attention: suction cup can only work on windshield glass surface; some cars have darker tinted part with a bit of a texture, please avoid such surface.

4. How to hide power cable: there are a lot of video on youtube talking about this topic, here is a sample video (not recorded by us): https://www.youtube.com/watch?v=xwD8Ilk-MHU

5. X1 can also be used as HD PC Web Cam, just turn off Auto Shut Off and connect it to your PC.

6. How to Turn Off LCD Screen: Click M button twice, go to "Screen Saver" option, select any option other than OFF. The LCD screen would be turned off after few minutes. You can click right side Up, Down button to bring back LCD screen, it would not impact current video recording.
Why To Choose KDLINKS X1 Dash Cam
* 60 Days Money Back Guarantee, plus 1 Year Warranty - We will cover return shipping cost
* Multiple Award Winner, Rated #1
* Patent Pending GPS built-in suction cup mount. No more tangled cables like other brands! Less clutter on your windshield.
* Exclusive supreme quality GPS module made in Japan
* Professional Windows & Mac GPS video data player software with Google Maps Route Animation
* Premium real HD quality video(1920x1080) for day and night use
* Quick-response support team provides worry-free solutions, drop us an email and we would take care of the rest for you
Yes, we care about our customers!
Compare X1 with Other Popular Camera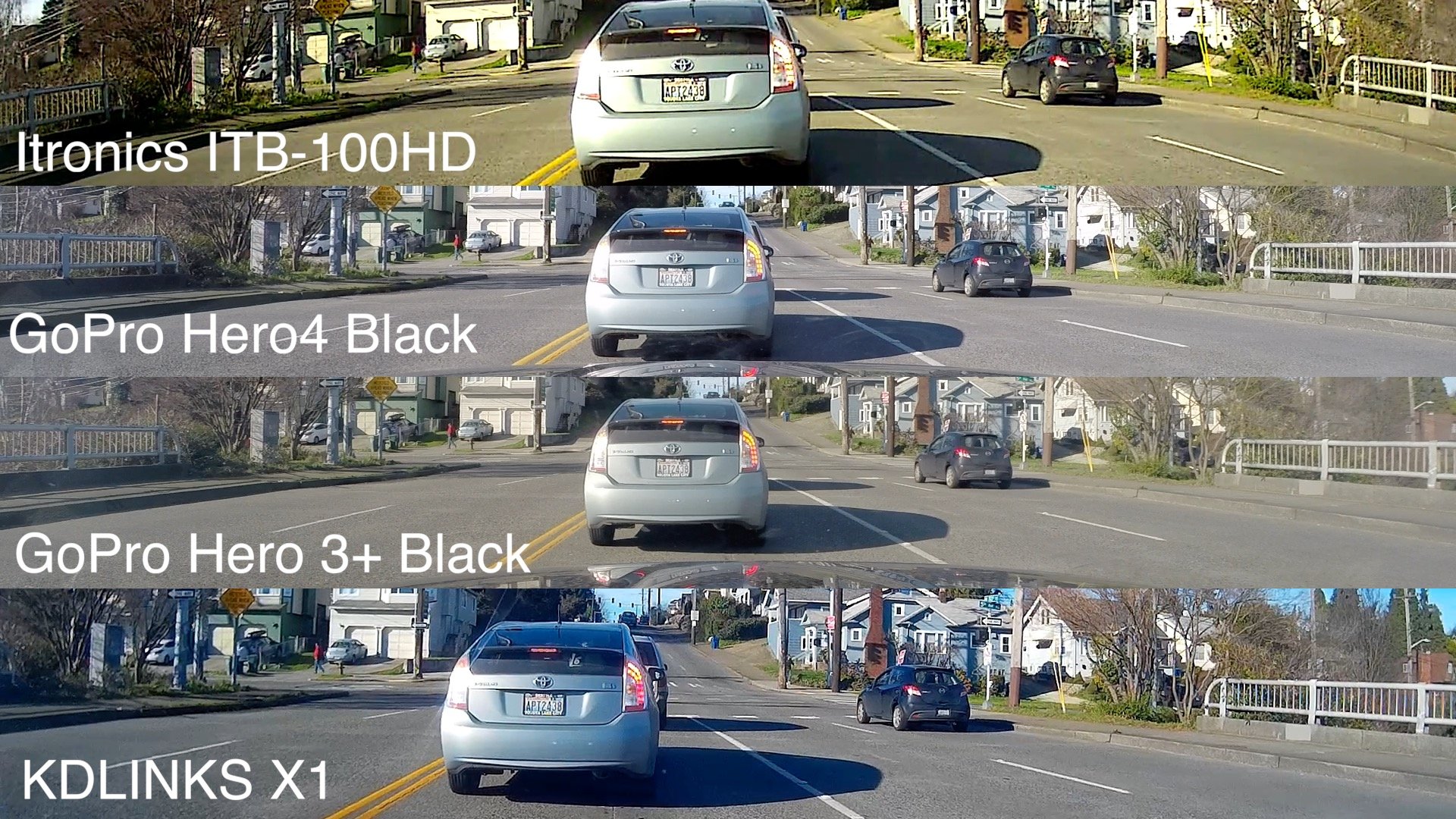 This comparison is from the famous vortexrader.com X1 review, link: Detail X1 Review by VortexRader.com
Questions?
Please email us at:
care@kdlinks.com
 for all questions.